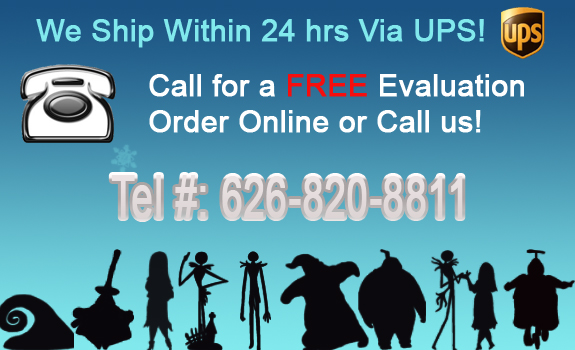 2011 New Model
Package includes one free 30 ft. RG6 Coax Cable and one free 3 ft. RG6 Coax Cable!
Free shipping on individual HD2805 antenna!
Buy 2 or more HD2805, pay $52.95 for each antenna+Free Shipping+Free Shipping for any item of eSpymall.com website. Limited Time Offer, may end anytime.
Feature:
FREE SHIPPING! (Free Shipping Only Applies To Customers in the Lower 48 States, Alaska, Hawaii and Canada are Excluded)
The HD2805 antenna comes with a built-in rotor (motor), which can turn a full 360 degrees using the infrared remote control included in the package. Since the antenna can be aimed in any particular direction, you will be able to pick up TV signals much better than with a regular antenna. This is the perfect solution for any rural or suburban area. We have sold over 10,000 units to our customers, please read some of their reviews in the customer review section.
Choose the Right HDTV Antenna
To watch HDTV you can either pay your cables or satellite provider with High Monthly Fee, or you can receive local HDTV broadcasts using our HDTV antenna FOR ONLY $58. Pick up all your local channels!
To check the available channel around your area, please click Antenna Web.
If the closest broadcasting tower is above 60 miles away from your location, the HD-2605 would pick up the most channel for you.

If the closest broadcasting tower is located between 40-60 miles away from your place, the HD-2805 would have the best result to pick up the most channel.

If the distance between your place and the nearest broadcasting tower is below 40 miles, you can check our Indoor HDTV Antenna section for best result.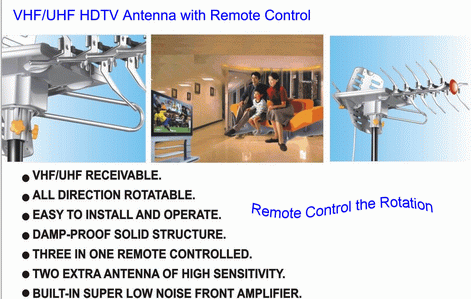 EASY INSTALLATION Less than 10 mins!
Assemble the antenna as diagrams instructed from A to H

Use iron pipe to install the antenna. For best reception, put the antenna at the highest point of your roof or at a space that has clear open view.

Connect the Antenna using the included RG6 cable to the central control unit. ANT IN port. The control signal will go through the cable to rotate the antenna.

Connect the control unit TV OUT to your TV RF input.

Connect the power adapter.

Scan Channels from your TV menu.

Start to use the antenna and enjoy the HDTV.
Why Your Should Buy This Antenna
Easy Installation - The main benefit of this antenna is that it comes pre-assembled so you just have to open it up and use it. Installation should only take a few minutes.

Ideal Distance - These antennas are ideal for people living 40 to 60 miles from the broadcast towers because it is powerful but not too powerful. People who live in the city like in L.A. and are close to broadcast towers should get indoor antennas. This antenna is ideal for people who are about 40 to 60 miles away even though it can work for up to 150 miles.
Why This And Not the BA2605 - You do not need to get the most powerful antenna if you do not live too far from the major broadcast towers. If you are closer to the broadcast tower and you get an antenna like the BA2605 then you may have too much power and it may not pick up the signals because it's like using a hearing aid at a rock concert. You will have too much noise. Therefore, using the right antenna will get you the maximum channels.
Expanded Size: 37" x 20" x 4"
We are the manufacturer so you will get the best price for this item!
All orders shipped within 24hr after the payment has been verified!
100% Customer satisfaction.
Similar Model Retail over $120.00 at a major chain retailer!
FEATURES
UHF/VHF HDTV Antenna with remote control.

Works on all TVs. One cable solution for all your TVs at home.

Grabs all digital and analog signals

Install outdoor or in attic

Dual TV Outputs

Assembles in minutes

High gain built in amplifier

Range up to 150 miles

Full rotation in seconds

Supports multiple TVs

Easy to install. Only a small 1" diameter mounting pole is needed

Full assembly in less than 3 minutes

DTV transition ready! Up to a 150 mile reception range!

Grabs local channels fast and clearly!

Full U.S.& Canada Coverage
>
Customer Reviews
these are good antennas and pick up the channels i wanted direct tv does not provide local channels in my area.Sli...@ymail.com
Good product, good customer support. Rep helped me save money too. THX.lan..@hotmail.com
Thanks. The antenna arrived at noon on 11/02. Installed and operational by 3PM same day.pon..@aol.com
We are happy with the product. It is easy to install and the quality seems good to far. We uses to get around 20 channels and now we got 41. The purchase process was very easy, they keep informed during each step. ThanksSon..@hotmail.com
These are good antennas and pick up the channels in my area.F...@cox.net
Product works as advertised. Smaller than expected as compared to comprable Radio Shack unit. g...@hughes.ne

Product was easy to order, and arrived in a very timely manner. fr...@yahoo.com
I just got one of these antennas and it works real well just holding it out in the yard so my daughter told me to order her one.su...@yahoo.com
THIS ANTENNA IS EVERYTHING THEY SAY IT IS. I LIVE IN LANCASTER CA. AND IT WORKED AT CEILING LEVEL TO GET 3 CHANNELS, ON THE CHIMNEY 15 CHANNELS. AND FINALLY MOUNTED WITH A 5 TRIPOD AND 101" MAST I GET 25 CHANNELS. THE PICTURE IS AS GOOD AS THE DIRECT TV I WAS PAYING FOR, I SHOULD SAY THE PICTURE IS BETTER THE HD IS FREE AND THE STEREO COMES IN EVEN BETTER. I RESEARCH ALL AROUND TOWN AND NOO ONE KNEW WHAT WAS BEST, NOW I DO, THE 2805 AT $58.00 IS THE WAY TO GO.MERRILL MARVOSH

It has performed very good. There are two metro areas where many TV stations are located and I can pull in all VHF stations and 3 UHF stations from those areas. However, I am located atop a 700 foot hill that is probably higher than other hills or forested areas. I would say it was a good buy.gi...@msn.com
I live about 30-35 miles from the towers in a neighborhood with lots of trees. The HDTV Antenna added 10-15 points to the signal strength of all the stations it is pointed at and so far not a single drop out or lost signal.ty...@yahoo.com
Outdoor HDTV Antenna HD2605-HD2805 BA2605-BA2805 Installation Self-Testing
Frequently Asked Questions
YES! The antenna works on any standard TV or HDTV. You can use your analog TVs but at the same time have the access to digital TV broadcasts.
YES! HDTV broadcasts quality is often superior to the quality of the same HD programs received through a paid satellite subscription. Not only the quality is better, OTA HDTV is free of charge. To pick up HD signals you will need a HD antenna.
YES! HD antennas are much easier on the budget. Take a look at our HDTV Antenna selection.
YES!Over 90% of HDTV broadcasts are on the UHF band. Unless there are HDTV broadcasts on the VHF band in your area, don't bother with VHF antennas. These antennas are typically of much bigger size, more expensive and more difficult to install. In principle, you can buy a VHF/UHF antenna to cover both bands
YESIf you want to pick up signals coming from different directions you need either two directional antennas or an antenna rotator.
Three easy set up steps:
Step 1: Connect the hdtv antenna to the coaxial antenna (ANT IN) port and turn your TV to the proper input. (usually indicated as Source or Input on your remote)
Step 2: Turn your TV to an HD over-the air channel (find available HD channels) and hold your hdtv antenna in various positions to find the ideal permanent spot.

Step 3: Enjoy free HD!
Frequent ask questions:
1. Which antenna do you recommend for me?
http://www.antennaweb.org/ click the "Choose an antenna" button and then type in your location detail or go to http://www.tvfool.com/index.php. Then the page will show you a list of channels. If the broadcasting towers listed are within 40 miles from your location, we will recommend you the Indoor Antenna BA-700. If it's between 50 to 150 miles, we will recommend you HD-2605 or HD-2805 Outdoor Antennas.

If the broadcasting towers listed are within 40 miles from your location, we will recommend you the Indoor Antenna BA-700. If it's between 50 to 150 miles, we will recommend you HD-2605 or HD-2805 Outdoor Antennas.

HD2605 is a much stronger antenna unit. For some reasons, it might affect picking up signals which is not too far from user's location. So if most of the broadcasting towers are within 40-50 miles, usually we would recommend our indoor antenna (i.e. BA700) or outdoor antenna(HD-2805).

Also due to various restrictions, we cannot guarantee that which channels you can pick up.
Overall,
BA700, HD600, BA200, All Indoor Antennas

(GREEN Color Zone Antennas)

: within 40 miles
HD2805

(RED Color Zone Antenna)

: 40 to 150 miles; to pick up signals within 40 miles, see Q3
HD2605

(RED Color Zone Antenna)

: 50 to 150 miles; for those who really need more gain from your location



2. No power on the control box?
If there is no power on the control box, it may be problem on the Power adapter or the control box. You can test the power adapter to see if the adapter is OK or not first. If your adapter is still work, then the problem should be with the control box. If your adapter does not have any output, then the adapter may be defective. You can contact us to replace the defective part under the Warranty period.
3. Remote no light up?
If your remote control does not light up when you press the button, open the batteries holder to check the batteries. Replace the batteries to try again. If you change to new batteries and the remote still not light up, the remote may be defective and need to be replaced.
4. Can not rotate the Antenna?
The Antenna is designed with rotor motor inside. The Rotor is controlled by the signal from the control box inside your house. If you install the Antenna and can get signal but can not rotate the Antenna, you need to test the rotate button on the control box.
Tape your finger on the rotation button on the control box, if the green light flash on, then the control box should work OK and control your Antenna, check the connection wire make sure that all the cables are connect correctly.
If you tape your finger on the Rotation button and the green light not on, it means the control rotation circuit has problem with the box. You need to contact us for replace of the control box.
If your control box can control the rotation but the remote can not. Check the problem 2 to see if your remote light up normal first. If your remote light up when you press the button but the Control box did not response, then may be the remote or the control box has problem. You can contact us to replace the remote first.
5. Can not find the RED CAP from the package?
The red cap was replaced by the built-in black one, and it can be found at the one end of the square pipe.
We will recommend you to do a test by yourself using the cable we extra offer before you install the antenna outside of the building.
1. If you plug the AC Adapter and connect to the control unit box, you should first see a red light is on on your control unit box.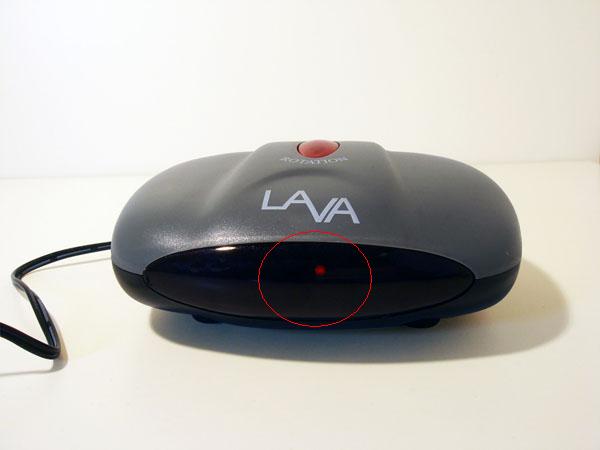 2. Once you connect the control unit box(a port on the box named ANT) to your antenna with a cable, now you should see the red light is on on your antenna. If not, you can test again with different cable to see if the problem is caused from the cable.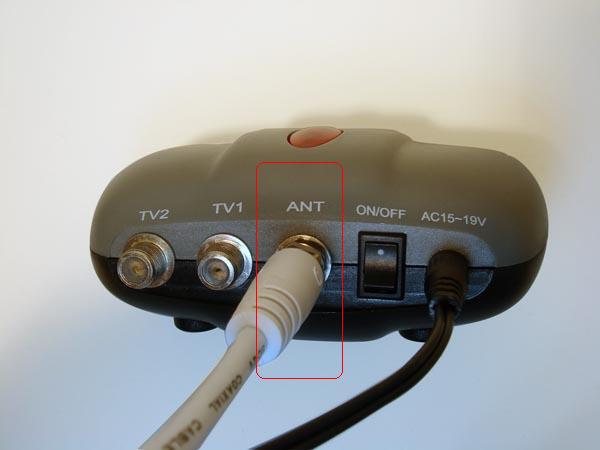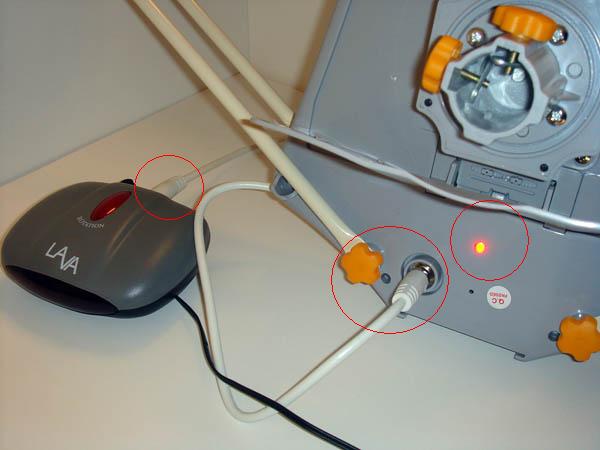 3. After making sure both red light are on, everytime when you press the button on the control unit box, you can see a green light is on on the control unit box and your antenna should be rotating.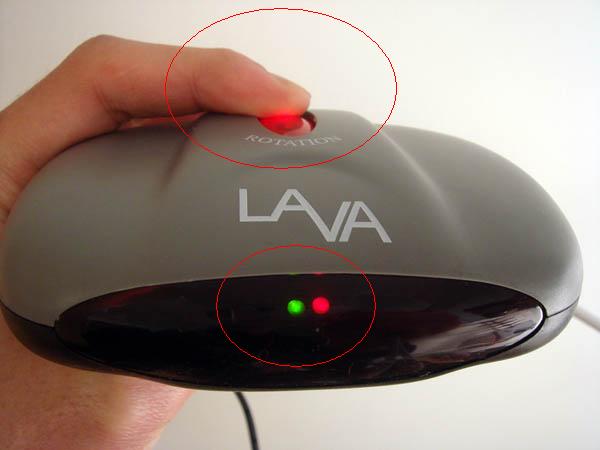 Above is a self-test instruction. Basically, you can test to see if your antenna set works without connecting the antenna to your TV set unless you're testing if any signals picked up by the antenna.
After you assemble all the parts correctly, the antenna should rotate about 360 degree and stop then rotate reversely by pressing the button on the unit box. Or you can change the direction by double clicking the button.
If your antenna didn't rotate, you can find out the problem easily from the steps above.
When you contact us asking for technical support, we appreciate if you can include a little details about which step above the error shows, so that we can more accurately diagnose the factor of problem your antenna might have.
For best result, the distance between the control unit box and your TV set should be within 20 ft. And the distance between the antenna and the control unit box should be within 50 ft.